Legal Online Gambling For Montana Residents
Montana is a mixed bag when it comes to gambling. Online and physical sports betting was just legalized in Montana in 2019, but online casinos and gambling sites are still in a grey area. Originally, Montana was one of the few states where it was nominally a crime to gamble online. Luckily, those looking to gamble online in the state can still do so via international online gambling sites.
We are going to show you a few of the statutes that have complicated the online gambling industry in the state of Montana, but we are also going to show you a few of the different gambling sites out there, those that will accept you regardless of the law, and the simplicity involved in actually participating. Even better, using these particular online gambling sites is actually legal provided MT residents go about it the proper way.

Online Gambling Age For Montana Residents
If you are going to gamble in the state of Montana, you will have the ability to participate in the games at a fairly young age, comparatively. You will have to be at least 18 years of age in order to gamble online in the state. If you are under this age, you are potentially committing a crime, though most of the state's legal focus is on those unlicensed entities that accept wagers rather than those individuals who place them. Regardless of the law, though, if you wager online under the age of 18, you will be violating your chosen site's TOS, and they will confiscate your funds and ban your account permanently. It's definitely not a good idea to gamble underage.
Montana Online Gambling Laws
The gambling laws in Montana include a brief clause that makes online gambling a crime. Montana Code 23-5-112, subsection 20(a) states that gambling through the Internet is a crime when using paper money, paper checks, e-checks, and similar options. The laws are fairly ambiguous, and we are not actually attorneys, so we cannot authoritatively say whether or not online gambling is actually a crime in the state. From the appearance of things, the practice is unlawful with several caveats that make it fall within the law. As in the above case, if you use Bitcoin to fund your gambling, you would actually no longer be doing anything illegal per the MT Code itself. This kind of nonsense is fairly standard.
For sports betting, Montana just passed State Bill 25, supported by Montana Governor Steve Bullock which allows sports pools and tabs in Montana's many bars and public locations.
The main takeaway here, of course, is simply this: No Montana resident has ever been arrested, fined, or otherwise put in legal hot water simply for gambling via offshore, Internet-based betting shops. And with nearly 100,000 state residents gambling online every year, the numbers are overwhelmingly on your side. In Montana, you can gamble online without fear of legal repercussions. For a complete overview of Montana's gambling laws, be sure to check out Title 23, Chapter 5 of the Montana Code here.
Gambling Sites That Accept Montana Residents
Residents of Montana will find that, in spite of the laws, there are actually various gambling sites that still accept players from Montana. We have decided to share these trusted gambling sites so our readers can safely gamble in a manner that protects them from any potential prosecution. Far more likely than getting arrested for online gambling in MT is the risk that you'll get ripped off by joining an illegitimate gambling site. Stick to the best in the business, and you'll never have a thing to worry about. These websites are your best bets for safe and fun 2021 Montana online gambling.
Bovada: Montana Residents Are Welcome To Signup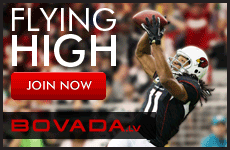 The majestic mountains of Montana have produced mass amounts of gold, silver, and sapphires since the mid-1800s. Nicknamed the Treasure State, it's not hard to figure out why. If you love treasure and aren't afraid to do some prospecting of your own, join Bovada–the best overall gambling site in Montana. Montana residents don't need to worry about bringing a pickaxe, or doing any physical labor. Just sit back, relax, and bet on your favorite sports team, play single or multi-table poker, or head to the casino and play 3D slots like Genie's Fortune, Black Gold, and Treasure Room. Bovada is a legal and trusted betting site that has been operating for over 20 years. Bovada is pure platinum in customer service and satisfaction, too.
Beat the gold rush to Bovada's cash prize rewards and specials. For all the new prospectors that join for free and make their first deposit, they qualify for a special bonus. Bovada's 50% welcome bonus will immediately be credited to your account, and doing this can earn you up to $250 in free-plays. Sounds like you've already hit pay dirt to me! Bovada also offers a refer-a-friend bonus that can get you a 200% bonus based on your friend's first deposit. The free loot just keeps piling up! These are just two of the rich minerals of bonus gold that Bovada has to offer – they have so many bonuses available you could literally fill a mine with them. So don't sit on that potential gold mine – join Bovada today, and bask in your treasure. Go To Bovada!
BONUSES:
50% - $250 BONUS!
ACCEPTED IN:
No DE, MD, NJ, NV
| Rank | Casino | Highlights | Rating | Visit Site |
| --- | --- | --- | --- | --- |
| 1 | | 100% Up To $3,000 Read Review | | Visit Bovada |
| 2 | | 100% Up To $1,000 | | Visit Ignition |
| 3 | | 500% Up To $5,000 | | Visit Slots.lv |
| 4 | | 100% Up To $4,000 | | Visit Cafe Casino |
| 5 | | 200% Up To $2,000 | | Visit SlotoCash |
| 6 | | 200% Up To $1,000 | | Visit Cherry Jackpot |
| 7 | | 40% Up To $4,000 | | Visit Lucky Red |
| 8 | | 150% Up To $3,000 Read Review | | Visit Las Vegas USA |
| 9 | | 150% Up To $3,000 Read Review | | Visit Sun Palace |
| 10 | | 100% Up To $1,000 | | Visit CasinoMax |
| Rank | Sportsbook | Highlights | Rating | Visit Site |
| 1 | | 50% Up To $250 Read Review | | Visit Bovada |
| 2 | | 50% Up To $1000 | | Visit BetOnline.ag |
| 4 | | 50% Up To $1000 | | Visit SportsBetting.ag |
| 5 | | 50% Up To $1000 | | Visit MyBookie |
| 6 | | 50% Up To $300 | | Visit Xbet |
| Rank | Poker Room | Highlights | Rating | Visit Site |
| 1 | | 100% Up To $500 Read Review | | Visit Bovada |
| 2 | | 100% Up To $1000 | | Visit BetOnline.ag |
Online Casinos That Accept Montana Residents
There are various online casinos in the state of Montana, and they provide players with a way to easily participate in the games that are otherwise only found in live casinos. Online casinos may not be 100% legal in the state, but there is enough ambiguity re the actual laws that you can still safely join such casinos without risking any legal action against yourself. The best online casinos that accept MT residents are the usual suspects, like Bovada, SportsBetting, and the rest of the top providers. However, there are several casino-centric sites that stick to just Vegas-style gaming, like Lucky Red, Slots.lv, and Aladdin's Gold. Join one or all of them – you can't go wrong!
Online Sports Betting Sites That Accept Montana Residents
Sports betting is something that can be found in Montana without any complications. With the state recently passing state-sponsored betting laws, those looking to wager on sports in MT can do so at local bars and venues through pools and tabs. If you decide to join up with these Montana sports betting sites, you can very easily begin to participate in the odds. Sites like Bovada, SportsBetting, BetOnline, and several others already mentioned are your top options for online sports betting in Montana, and they've all been serving MT residents for decades with no legal problems to speak of. These sites are 100% safe to join for everyone living in Montana.
Online Poker Sites That Accept Montana Residents
Poker players may have access to various online poker rooms, but the legal issues are still a challenge. Since many online poker rooms are not as legitimate as they seem, we can only recommend that you stick to those that we have found to be completely safe. These include the rooms at all the top sportsbooks, as these sites tend to offer the most robust poker-specific options, as well as live-dealer poker tables against real player challengers.
Casino-based sites like Lucky Red et al. have poker as well, but it's usually just video poker at those sorts of sites. For a real, live experience, you'll want to stick to the sportsbooks.
Online Bingo Sites That Accept Montana Players
Sadly, even online bingo could be considered illegal in the state of Montana. This game may be something that can be played in children's schools for nonsense prizes with no risk, but when it comes to playing for real money, you might be taking a chance of being hassled by the fuzz. While it's never happened to anyone before, there's always a remote possibility. However, sites like 5Dimes offer plenty of bingo options for MT residents, and Downtown Bingo – the web's biggest dedicated bingo emporium – has been accepting MT customers for a generation.
Is Online Gambling Legal In Montana?
It is hard to answer if online gambling is legal in Montana. As we mentioned, MT is one of a handful of states that has actually passed legislation regarding Internet gambling (though with the overturn of the Professional and Amateur Sports Protection Act, or PASPA, more and more states are likely to broach the subject going forward). The law does clearly state that using certain forms of payment to gamble online is considered unlawful. We cannot earnestly suggest that residents of the state gamble online, though we do have information on the sites that are most commonly used. Though we have provided links to the requisite portion of the Montana Code, we still encourage potential bettors to read through MT's laws to determine if online gambling is an activity that you want to partake in.
There are other states where online gambling is expressly prohibited, and many residents still choose to gamble. This is a personal decision that only you can make. All of the gambling sites featured on the page currently accept Montana residents, though it is up to you if you would like to join. Remember, nobody has ever been arrested for wagering at online gambling sites in Montana, so the odds are definitely on your side if you sign up.
Is It Safe For Montana Residents To Gamble On The Internet?
There are several things that make online gambling safe for Montana residents, but the most important are the legalities. Montana does not have laws in place to stop online gambling, nor do they have the resources to enforce online gambling restrictions at the user level. No state does. Another factor is the opportunity to gamble in person in Montana. Montana's tribal casino locales are very spread out, and they do not offer comprehensive casino gaming.
Gambling online makes the practice safe in several ways, not the least of which involves the fact that you don't even have to leave your home if you want to place a bet, spin a few slots, or play some hands of Texas Hold 'em. This alone is reason enough to opt for gambling over the Internet rather than in person.
Finally, the sites we have listed here (Bovada, etc.) make online gambling in Montana safe with their outstanding reputations of quality and service. All provide timely payouts, fair games and odds for betting, and easy deposits for Montana residents. And again, nobody has ever been arrested in MT for using online casinos or betting sites.
Are Online Casinos Legal In Montana?
You will find that there are plenty of live casinos in Montana, and these are totally legal for you to play at, as they are authorized by the state via various tribal compacts. Unfortunately, online casinos have not been legalized or authorized in Montana, so it is potentially a crime for you to play casino games over the Internet. That said, this is an historically unenforced law, and it is highly unlikely that you will be the first Montana resident ever arrested for playing casino games or placing sports bets over the Internet.
Is Online Sports Betting Legal In Montana?
Online sports betting is now available in Montana through the Sports Bet Montana app. Under PASPA, Montana – though limitedly exempt, still could not authorize proper sportsbooks. Because the state deferred to federal law re sports betting, online sports betting was not specifically covered by the state's statutes. Now with PAPSA out of the way, bettors can log on to the Sports Bet Montana app and place wagers on their favorite teams. Additionally, bettors can log on to the international sports betting sites like Bvoada, BetOnline, SportsBetting, XBet, and other to bet from wherever.
Is Online Poker Legal In Montana?
Residents of Montana will find that online poker rooms are available, but you are not going to be able to legally participate in the games that are hosted in these rooms, at least technically speaking. If you decide to play online poker regardless (and nobody has ever been fined or arrested for doing so), you should stick with only the best poker sites listed above.
Can I Legally Bet On Horse Racing In Montana?
You can legally bet on horse racing within the state of Montana without having to worry about getting in trouble. Pari-mutuel wagering has been legal in the state for years, and you can even bet at a local track. Though online wagering is in a different category, some horse enthusiasts choose to use online racebooks out of convenience and added benefit.
You can bet the horses from the comfort of your own home and also get cash back on every bet that you make. You can wager on your favorite horse to win, place, or show. Exotic wagers such as exactas, trifectas, superfectas, Pick 3 bets, and Pick 6 wagers are also accepted. Again, you will want to consider the law and the potential repercussions before taking your bets online. Most of the major offshore sportsbook sites have international horse racing betting available to their MT members.
Montana Legal Gambling FAQs
What Are The Best Funding Methods For Montana Residents?
The best funding methods for Montana residents are those that are as fast as they are reliable. You will come across plenty of deposit methods at gambling sites, such as checks, money orders, and MoneyGram, but we recommend using Bitcoin. Bitcoin is extremely expedient and you never have to worry about the transaction getting declined. You can instantly send anywhere from $20 to $25,000 and start gambling within minutes. There are never any extra fees for using Bitcoin, and you can even get exclusive bonuses for choosing this option.
Credit cards are the most popular funding method no matter what type of site you visit. You can run into issues when getting them processed, but it is still an instant deposit option. The minimum deposit is usually around $20 while the maximum is not much higher than $5,000. Your credit card issuer may charge you an international purchase fee, but this is usually under 7%. Even with the potential fee, most gamblers find that using their credit card is the most convenient way to deposit.
Do Racebooks Have Mobile Betting Apps For Horse Racing?
The majority of racebooks also have mobile horse betting apps for horse racing. Being able to bet on horse races while on the go is a feature that most horse enthusiasts look for. You can bet the same win, place, show, and exotic wagers that you always have, just from your mobile device. Mobile horse betting apps are 100% free to use, and many times will not require any additional downloads to your iPhone, iPad, or Android devices. You can visit your racebook of choice from your smartphone or tablet and be automatically directed to the mobile version of the racebook.
Why Did My Credit Card Get Declined?
Unfortunately, your credit card may get declined when attempting to make deposits at an online gambling site. It is your bank or card issuer that is declining the payment due to certain federal laws, namely the UIGEA (Unlawful Internet Gambling Enforcement Act of 2006). The UIGEA forces US financial institutions to block transactions related to online gambling. This is why gambling sites work with a variety of payment processors to decrease the likelihood of your card getting declined. Even if it gets declined on the first attempt, though, you can try again later and it may process within seconds, or you can immediately try to use a different card or other deposit method.
Will I go to jail for online gambling in Montana?
We have never heard of anyone being arrested for gambling online in the state of Montana, though it is a very remote possibility. We have found no records of any arrest related to online gambling in MT, so it is incredibly unlikely that you have to worry about facing real criminal charges for gambling in the state.