Legal Online Gambling For Nebraska Residents
Legal online gambling in NE takes many forms as horse racing, casino bingo halls, land based sports betting and the lottery system are all regulated. With limited in person gambling options, many residents have turned to Nebraska gambling sites, as the convenience of being able to play your favorite casino games from any mobile phone, tablet, or laptop is the biggest draw. These gambling sites are 100% safe and secure to use and have been serving the gambling needs of Nebraskans for decades. The legal gambling sites we recommend on this page will give gamblers in Nebraska all the information needed to gamble online without fear of being arrested by local law enforcement. After reading this page, gamblers visiting or residing in Nebraska will know everything about the legal online gambling industry in the state.

Online Gambling Age For Nebraska Residents
The minimum legal gambling age in Nebraska is 21 years old, with international sportsbooks raising their minimum age from 18 to comply with the state. Some online casinos and bingo halls, online and in-person, may have lower minimums as Nebraska allows more and more gambling options to players as they become of age. Turning 18 allows players to partake in bingo, 19 to bet at horse racing and lottery sites, and then 21 for online casino sites and poker rooms in addition to sports betting.
Nebraska Online Gambling Laws
Gambling laws in Nebraska continue to open up players to more state-based opportunities, but the process has been slow. The most recent gambling law in Nebraska to pass was LB 561. The bill allowed the State Racing Commission to offer sports betting, although the progress made until the launch has been slow played. International gambling sites have been legal in Nebraska for multiple decades, with online casinos and sportsbooks operating freely as foreign businesses that are governed in their country of origin.
Gambling Sites That Accept Nebraska Residents
The lack of land-based gambling options can be a hassle for some gamblers in the state who want a more Vegas-style casinos experience without having to leave their home state. Being in Nebraska doesn't have to keep any residents from gambling the way they would like. The gambling sites we suggest on this page are safe and legal to use for any Nebraska resident. Whether wanting to play blackjack, bet on the Cornhuskers, or play poker online in Nebraska, those residing in the state have no shortage of online gambling sites giving them a platform to legally gamble on.
Bovada: In-Game Betting Available For Cornhuskers Games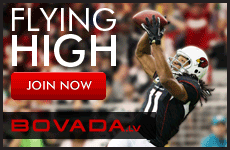 At the University of Nebraska, the Cornhuskers football team has had more Academic All-Americans than any other Division I school, but the bettors in the state are just as smart. That's because they know that sports betting is just a few clicks away when they use a legitimate and legal betting site. To that end, it's no surprise that Bovada is the best overall gambling site per Nebraska bettors, and it's widely regarded as the best such site for all US residents. Bovada is a legally operated betting site that is located right next door in the Kahnawake Mohawk Territory, Quebec, Canada. Bovada has been fully licensed and accredited and has an outstanding reputation that has carried them through the last 20 years with top marks and flying colors.
When new players in Nebraska sign up for Bovada, they are eligible for a $250 welcome bonus. Once you're a member, Bovada's bonuses and promotions don't stop there. They have bonuses for all betting sections and new promotions coming out all the time. Bovada prides itself on taking care of its loyal members. For all the terms and details of each special offer or bonus, look at the bonus section on Bovada. And remember, Bovada is your one-stop shop for all things gambling, not just sports betting (though this is their primary forte). Bovada offers a full casino experience with hundreds of table games, live dealer poker rooms and tournaments, and an international pari-mutuel racebook. Go To Bovada!
Is Bovada Legal In Nebraska?
Bovada is legal in Nebraska and this is not going to change in the future. The internationally licensed gambling site has been serving players in Nebraska for over a decade.
BONUSES:
50% - $250 BONUS!
ACCEPTED IN:
No DE, MD, NJ, NV
| Rank | Casino | Highlights | Rating | Visit Site |
| --- | --- | --- | --- | --- |
| 1 | | 100% Up To $3,000 Read Review | | Visit Bovada |
| 2 | | 100% Up To $1,000 | | Visit Ignition |
| 3 | | 500% Up To $5,000 | | Visit Slots.lv |
| 4 | | 100% Up To $4,000 | | Visit Cafe Casino |
| 5 | | 200% Up To $2,000 | | Visit SlotoCash |
| 6 | | 200% Up To $1,000 | | Visit Cherry Jackpot |
| 7 | | 40% Up To $4,000 | | Visit Lucky Red |
| 8 | | 150% Up To $3,000 Read Review | | Visit Las Vegas USA |
| 9 | | 150% Up To $3,000 Read Review | | Visit Sun Palace |
| 10 | | 100% Up To $1,000 | | Visit CasinoMax |
| Rank | Sportsbook | Highlights | Rating | Visit Site |
| 1 | | 50% Up To $250 Read Review | | Visit Bovada |
| 2 | | 50% Up To $1000 | | Visit BetOnline.ag |
| 3 | | 50% Up To $1000 | | Visit SportsBetting.ag |
| 4 | | 50% Up To $1000 | | Visit MyBookie |
| 5 | | 50% Up To $300 | | Visit Xbet |
| Rank | Poker Room | Highlights | Rating | Visit Site |
| 1 | | 100% Up To $500 Read Review | | Visit Bovada |
| 2 | | 100% Up To $1000 | | Visit BetOnline.ag |
Online Casinos That Accept Nebraska Residents
The limited games available at brick-and-mortar casinos in Nebraska can leave some bettors wanting more out of their gambling experience. For those who want a casino that doesn't have a limited gambling menu and is legal in Nebraska the online casinos at Bovada, Slots.lv, and Cafe Casino. These legal online casinos all provide a 24/7 way to gamble on slots, craps and blackjack among other favorite casino games found at traditional casinos. Since these sites are located in offshore countries that have strict requirements for licensing they're 100% safe and legal to be used by anyone in the Cornhusker State.
Online Sports Betting Sites That Accept Nebraska Residents
Online sportsbooks that accept Nebraska players are known for offering extreme bonuses, odds on all college sports, and fast payouts. The most popular and highest-rated legal sports betting sites in NE are Bovada and BetOnline due to their mobile sportsbooks, live betting odds, and because they can offer odds on the Cornhuskers (unlike Nebraska-based books). Each of Bovada and BetOnline has a stronger history than any of their competitors, with Bovada standing out as they were founded the same year that Nebraska joined the Big Ten (2011).
Online Poker Sites That Accept Nebraska Residents
Though poker rooms have somewhat gone by the wayside in favor of more comprehensive local experiences, we have found a few that we feel are worth passing along to our readers. If you decide that you want to hit the digital felts, then check out the legal poker rooms that we have examined for you. Like most Nebraska gambling sites, the best poker rooms are actually available at the Internet sportsbooks listed above (Bovada et al.). As a general rule, sportsbook sites tend to have live dealer and real-player poker tables available, while the more casino-only sites tend to favor video poker. Between the two varieties, of course, you are sure to find everything you're looking for in a premium online poker experience.
Online Bingo Sites That Accept Nebraska Players
Bingo is one of the few regulated gambling avenues in Nebraska and for those that don't want to travel to their local bingo halls in person, Bovada provides a great alternative as their bingo suite offers over 11 different ways to play the classic game. For well-traveled bingo players Bovada also has three distinct styles of bingo to play, as you can select from South American, European, and American (USA) bingo styles. If in Nebraska and looking for a bingo site trust to gamble on trust and believe that Bovada has everything you need and more.
Is Online Gambling Legal In Nebraska?
Legal online gambling in NE is legal through the use of internationally-based gambling sites. Those sites such as Bovada, Ignition, and BetOnline, have accepted Nebraska players for decades with no legal repercussions on the player's or the site's end. That is because online gambling sites are worldwide businesses based outside of the United States and are free to operate within US borders based on that international business status.
Are Online Casinos Legal In Nebraska?
Nebraska has no laws that forbid online casinos or using the internet to gamble either. With that in mind the state is discussing legislation that would bring a full array of options to Nebraska's gambling menu including online casinos. While this legislation hasn't passed yet it's still safe to use online casinos in Nebraska as long you stick with the online casinos we have spotlighted on this webpage.
Is Online Sports Betting Legal In Nebraska?
In Nebraska, it is legal to bet on sports online through international sportsbooks. The sportsbooks (a.k.a Bovada, BetOnline, MyBookie) allow players to bet on nearly every sport around the globe. The sports betting site's international status is a boon for NE bettors as well because the betting odds are not solely influenced by players looking to bet on Nebraska's sports teams. That means players get better payouts by using the state's best online sportsbooks, not through any state-based sportsbooks or bookies. However, the land based sports betting market did finally launch in 2023.
Which Sites Are Best For Betting On Cornhuskers Games?
Cornhusker football is alive and well. The huge following of Nebraska football has made it necessary to provide sites which allow betting in Nebraska, on Nebraska. For that, we recommend several online sportsbooks on this page, but probably none are quite as good as Bovada at getting the best values for Nebraska bettors. Though all the listed sites are solid choices, Bovada features lines on Nebraska games for every week of the season and has high betting limits on most wager types.
Bovada has made it simple for Nebraska residents to get payouts as well as make deposits into their accounts. And no Nebraska resident that is at least 18 years old will ever be turned away from making bets, playing casino games, or even playing online poker at this site. Don't miss a moment of betting Cornhusker games when you opt to bet with Bovada.
Is Online Poker Legal In Nebraska?
Feel free to hit the felts, as online poker rooms have not been specifically banned in the state of Nebraska. Players are free to participate in these games with only the consequence of losing if you happen to hit an unlucky streak.
Is Horse Racing Betting Legal In Nebraska?
Horse racing is one of the most popular spectator sports in the world, and horse racing betting is completely legal in Nebraska. The Nebraska legislature legalized pari-mutuel horse racing at licensed tracks nearly a generation ago. Of course, while local tracks can offer tons of fun, the majority of Nebraska horse racing enthusiasts realize that the best betting action is online.
With legal online racebooks, you can make straight and exotic wagers on your favorite horses. There are also risk-free bets and other promotions offered at racebooks like BetOnline. When you want to gain instant access to major horse tracks like that in Santa Anita or Gulfstream Park, you don't have to travel across the country. Just join an online horse racing betting site!
Nebraska Legal Gambling FAQs
Does Bovada have mobile sports betting app?
Bovada is one of the leading online sportsbooks and also has one of the best mobile sports betting apps, or web apps. Rather than having to take up time and space on your mobile device, Bovada's web app doesn't actually require any special downloads. Just visit Bovada from your iPhone or Android handset to be redirected to their mobile site.
The mobile Bovada site has the same wide selection of sports, the latest sports insights, and live betting odds. Make a deposit or request a speedy withdrawal from your phone or tablet, too. You can even register your Bovada account from your mobile phone. The Bovada mobile sportsbook is compatible with most devices, including iPhones, iPads, Androids, Windows Mobile phones, Blackberry phones and tablets, and more.
How Deposits Work At Online Gambling Sites
Deposits at online gambling sites are quick and easy for the ultimate convenience. You will need to visit the cashier to view all of the available deposit options. Some of the more common methods include credit cards, checks, MoneyGram transfers, Western Union transfers, and bank wires. The deposit method that we recommend, however, is Bitcoin, due to its speed and reliability. With Bitcoin, you can enjoy deposit limits that range from $20 to $25,000 without any additional fees. Send Bitcoin from your wallet to the address provided by the online cashier (or vice versa for payouts), and that's it.
For high roller gamblers, opt for a bank wire transfer. Bank wires are the only deposit option that comes with no maximum limit. You will need to speak with customer service before initiating the transfer to find out account details. These transactions are usually completed within 3 business days, but the total transaction speed always depends on your bank. Your bank will also charge a bank wire fee that is usually determined by the amount of the transfer in question.
Which site should I sign up with?
With so many sites to choose from, it would be impossible to tell you exactly which site to choose. What we can do is tell you what to look for when choosing an online gambling site. You will first want to consider the banking options and if they have suitable methods. Do you want an online option? Do you prefer to mail a check? How long will the deposit take? Next, ask yourself if you are interested in bonuses and what kind you are looking for. If you know that you will do a lot of wagering you may opt for a site that offers larger deposit bonuses, such as SportsBetting. You should also consider if you want a one-stop-shop that offers all types of gambling, or if you want to join multiple sites. For all-in-one betting with large bonuses, you can look to a site like BetOnline.
Will I go to jail for online gambling in Nebraska?
Have you ever heard of someone going to jail for using Nebraska gambling sites? No? We haven't either. The law is not conducive to supporting arrests for gambling online, so this is not a fear that will ever become a reality. In the end, there are no problems that will arise from participating in legal online gambling in NE – other than the occasional loss, of course.