California Constitutional Amendment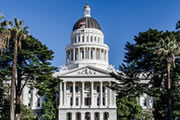 A proposed California constitutional amendment to authorize the legalization of sports betting in the state was announced yesterday by its legislature.
That means the nation's most populous state is now officially on the sports wagering bandwagon alongside Connecticut and Mississippi, who made recent strides toward legalizing and regulating betting on sports. All three states are pinning their hopes to tap into the promise of massive revenue streams afforded by a broader embrace of sports gambling, which is currently banned everywhere but Nevada by the Professional and Amateur Sports Protection Act (PASPA). To achieve their goal, the aforementioned states will be counting on a favorable outcome in the upcoming sports betting case New Jersey is set to bring before the U.S. Supreme Court – a case which, if successful for the Garden State, could open up sports betting for nationwide legalization.
California Looks to Cash in on Legal Sports Betting
California isn't called the Golden State for nothing, earning its nickname and "eureka!" motto thanks to the titanic influx of miners and prospectors looking to strike it rich in the gold rush of 1849. The state's wealth was, practically speaking, built by industrious and enterprising folks hopping on a literal wagon train, so it comes as no surprise that California would make the effort to tag along with other states hoping to profit from New Jersey's day in court.
Adam Gray, chairman of California's Assembly Governmental Organization Committee, said in a press release issued late Thursday that the promise of success in New Jersey's Supreme Court case was behind the proposed amendment, leaving no doubt as to the Assembly's motivation. Gray, quite explicitly, said he's pleased the Supreme Court has chosen to "shoulder the burden of bringing legal clarity" to the question of states' rights on the issue of sports wagering. He went on to write that the large volume of Californians who already engage in sports betting through "illegal and unscrupulous websites in foreign countries" creates a problem for the state, especially if it wants to protect consumers in the burgeoning industry.
"It is time to bring this multibillion dollar industry out of the shadows. We need to crack down on illegal and unregulated online gaming and replace it with a safe and responsible option which includes safeguards against compulsive and underage gambling, money laundering, and fraud," Gray said in the press release.
California, with a population of 40 million people and a well-developed tourism industry, would already be the sixth-biggest economy in the world if it was an independent country. However, there is no doubt that the casino operators in the Golden State's strong and growing gaming industry would love a bigger slice of the gambling pie that the legalization of sports betting could bring. That state coffers would likely get a shot in the arm too, is also not much of a matter of contention: Nevada, which relies almost exclusively on gaming tourism, raked in nearly $220 million in tax revenues from sports betting alone last year.
When one considers Nevada's vastly smaller population compared to California, to say nothing of the former's utter lack of beaches, wine country, theme parks, massive financial sector and other major advantages, it becomes clear just how much Cali stands to gain from legal sports betting.
How Likely is California to Pass an Amendment to Legalize Sports Betting?
This is a difficult question to answer, but suffice it to say that Californians' appetites have been whetted to embrace sports betting thanks to legislative developments in recent years. Daily fantasy sports (DFS) regulatory legislation, also sponsored by Gray, passed on the state Assembly floor by an almost unanimous 62-1 majority in 2016. As many pundits and players alike consider paid-entry DFS to be a form (however mild) of sports wagering, the overwhelming support for the 2016 bill is a powerful indication that Californians want more opportunities to wager on sporting events and that their legislators want to give it to them.
Additionally, there are more and more states throwing in with some proposed legislation of their own to legalize online gambling in general. Illinois, Massachusetts, Michigan and New York have all taken steps in that direction in the past few years, even if they haven't found success yet. If they did start making some headway, and if California, with its solid gaming industry, were to get the result they want from the Supreme Court in New Jersey's PASPA case, the momentum generated by that ruling could be the rising tide that raises all ships.
All that is to say that California's constitutional amendment to legalize sports betting is likely to pass if it ever gets put to the vote. But the state legislature will have to approve the amendment by a two-thirds majority to put it on the ballot as a referendum. That shouldn't give too much cause for concern compared to the difficulties experienced by online poker and other forms of gambling, where competing interests from cardrooms, tribal casinos and racetracks held up the process. Fortunately for Gray and other longstanding proponents of sports betting, that kind of gambling is more widely accepted as an "equal access" kind of thing across the gaming industry.
| Legal Betting Sites | Bonuses | Features | Visit Site |
| --- | --- | --- | --- |
| | 50% - $250 | Casino Games | |
| | 50% - $1,000 | Poker / Casino Games | |
| | 50% - $1,000 | Poker / Casino Games | |
| | 100% - $500 | Poker / Casino Games | |
| | 50% - $520 | Live Dealer Casino | |